South Coast Track Expedition (
Nine Days)
Our South Coast Track tour is truly an 'expedition'. A spectacular flight from Hobart and over the route begins a real appreciation of this wild and remote wilderness.  Our walk departs from historic Melaleuca Inlet (on Bathurst Harbour). Over the next nine days from here, 80km to Cockle Creek, we traverse an amazing variety of landscapes. White sandy beaches, rainforests and mountain streams as well as sub-alpine, perhaps snow covered heath to an altitude of over 1000 meters. The route has a rich history of both traditional and colonial influence and passing through an array of habitats with rare and unusual flora and fauna, the journey is a real 'immersion'.
The terrain can be challenging. The walking days are not excessively long (average 4/5 hours) and we plan a rest day. Some sections involve steep ascents and rain can make others boggy or add delays at the various creek/river crossings. That said, there are also long stretches of easier track and beach walking and, with our guidance, the walk is suitable for those with little experience with a reasonable level of fitness and perseverance. The accomplishment and experience are well worth the effort.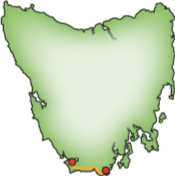 What''s includedEquipment ChecklistWalk Grades
Details and Pricing
Summer (December-April)
Grade: Moderate
Nine days, eight nights (tent based)
Pickup Hobart 6am, returns to Hobart early
evening final day
Average pack weight 14-15kg
All inclusive pricing (local travel/flights equipment, guides, food and catering)
Departures: November 23rd | December 14th |  | February 15th | March 7th & 28th | April 18th
Other departures on demand.
See discounts in FAQ
South Coast

$2550/
per person
Itinerary
Map Sheet Tasmap 1:100000 'South Coast Walks'
South Coast Track- John & Monica Chapman
Day One
Distance: 12 km
Estimated Time: 3 – 4 hours
We pickup from Hobart city accommodations starting from 7.30am for transport to Cambridge Airport. Following a brief introduction and outfitting we will board our plane for the spectacular 40min flight along the South Coast (or alternatively along the south west mountain ranges) to the trail-head at Melaleuca Inlet. The walk for the afternoon involves an easy ramble from the harbour south to Point Eric on Cox Bight.
Day Two
Distance: 11 km
Estimated Time: 5 – 6 hours
Warming up with a beach stroll the track turns inland and a short ascent into The Redpoint Hills. The track is relatively easy going as it meanders across open undulating plains. Our destination is normally Louisa Bay, a side-trip from the main track but a highlight of beauty and an interest of aboriginal history and culture. Our first major obstacle is the Louisa River which empties into the bay and we make a decision to skip Louisa Bay if the weather is threatening a delay at the river. We otherwise spend a night at each.
Day Three
Distance: 9 km
Estimated Time: 3 – 4 hours
The Ironbound range dominates the eastern skyline throughout the day. Louisa River is a major watershed and a verdant corridor on the coastal plains. We head back inland across buttongrass plains to our campsite on the Louisa River at the base of the range. We camp among majestic eucalypts and and mixed rainforest canopy by the riverside.
Day Four
Distance: 12 km
Estimated Time: 9 – 10 hours
Following an early breakfast we start on the almost immediate 1000m ascent to the top of The Ironbound Range. The climb, to the highest point on our journey, sees us ascend from coastal plains to sub alpine heath, the contrast and views while crossing the range make up for the effort. While the ascent is well graded with sections of benched track the descent back to the coast includes rainforest, roots and muddy sections. No doubt this is one of the harder days on the track.
Day Five
Rest Day
If we haven't needed this extra day (from any delays at various creek and the river crossings), this is our 'rest day'. The campsite is well positioned and can be a chance to dry clothing or relax and take a deserved break. You may like to try your hand at fishing or explore the nearby coast.
Day Six
Distance: 9 – 11 km
Estimated Time: 4 – 5 hours
We head around the bay and over Menzies Bluff, along the coast we find ourselves on Prion Beach a 6km jewel of white sand stretching to the mouth of New River Lagoon. At the lagoon we board rowboats for the crossing then again climbing inland around Wierah Hill and diverting to before diverting to the nights camp at beautiful Osmiridium Beach.
Day Seven
Distance: 10 km
Estimated Time: 4 – 5 hours
Forested ridges and small bays include views to spectacular sea cliffs. A shorter day which allows time to explore Surprise Bay with its rich fossil record and immerse in a range of habitat as we cross the headland to Shoemaker Bay and our campsite above Granite Beach. A great site above a setting of jumbled boulders and a backdrop of the towering fluted cliffs, the culmination of the end of the South Cape Range.
Day Eight
Distance: 10 km
Estimated Time: 7 – 8 hours
A day of challenge, we cross the second major obstacle of the South Coast Track, South Cape Range. Views over the South Cape and north to Pindars Peak and other challenging icons of the southwest can ease the effort of crossing the range . The track eventually gets easier as we drop down to drier rolling hills and our campsite immediately following a wade through the breakers of South Cape Rivulet… we are almost there!
Day Nine
Distance: 10 km
Estimated Time: 4 – 5 hours
An easy beach stroll with some short climbs over sand dunes and Coal Bluff. We pass Lion Rock and turn inland. A couple of ambling hours on boardwalk and formed track heading north through Blowhole Valley brings us out at Recherche Bay and Cockle Creek. Our bus journey back to Hobart can be with mixed feelings as we approach civilisation. This true wilderness journey will no doubt leave memories revisited over a lifetime.